Das ANTA Naturschutzprojekt kümmert sich auch 2018 um das Thema Hunde und Meeresschildkröten. Man kann sich als Freiwilliger anmelden (siehe hier).
Aktivitäten des Projekts 2018
Auf Zakynthos gibt es viele frei lebende Hunde, von denen manche die Schildkrötennester ausrauben. Eine Möglichkeit dies zu stoppen ist die Sensibilisierung der lokalen zakynthischen Bevölkerung mit dem Ziel, dass Hundebesitzer ihre Tiere sterilisieren lassen und sie während der Brutsaison der Meeresschildkröten von den Stränden fernhalten.
Der Fokus des Projekts liegt weiter 2018 unter anderem in der Bekanntmachung des Themas in den lokalen Medien.
02.01.2018 Ionian Channel Broadcast of the show Hamili Ptisi:
Anta Vlachoutsikou explaining the positive effects of the newly passed law in Greece, which obliges shops to sell the plastic bags used for groceries.
Arsinoe (intellectual in Ancient Greek) or Jet
(looking for a home)
Arsinoe, a one year old female stray, found in the airport area, close to the breeding beaches of Laganas Bay, has been taken in by ANTAconcept project and is staying in the garden of ANTA Haus until her permanent family is found. All this is happening thanks to a collaboration with Healing Paws Animal Rescue which will be your contact if you are interested in adopting her.
Arsi is a mixed between Gekas Hunting dog and Labrador breeds. Highly intelligent, eager to learn, obedient, loves water and makes very impressive leaps among the grass.  Her coloring and dimensions are: black and brown, 53 cm long with 39 cm height.
She is person oriented and will become very loyal as evidenced by how close she stays on walks and the way she returns to you constantly in between exploring.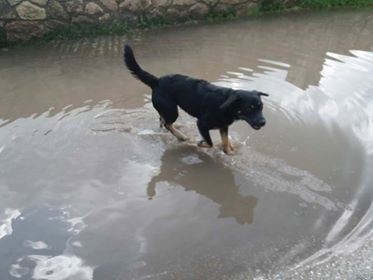 Nero (looking for a home)
Nero, about two years old was found tied to a barrel and is now safe in ANTA Haus garden, where all the necessary procedures will be made so he can be adopted. Likely released by his previous owners and was tied up by a farmer for a year to keep livestock safe.
His dimensions are: 80 cm long and 53 cm tall. Very thin when we found him and tied on a 1 meter rope he was left in the winter rain.
He is sweetest caramel colored boy who is very grateful to be out of the cold and rain where he was found. He cries from joy when being pet in a warm environment and is learning incredibly quickly how to behave in a house.
Please contact ANTA if interested.