Nature Resonance
Zakynthos, Hellas 2023
Limited number of participants: 2 to 12 people
Organized by: Ada Vlachoutsikou, tel. 0043 664 5058948
Nature Resonance Programm on ANTA House premises is a fine holiday choice for diverse needs and interests. People who need to take care of their mental and physical health can come and be embraced by the environment and activities offered. In addition, of course, students and people that care for nature conservation can come to gain experience and enrich their curriculum vita.
In summer 2023, ANTAconcept will continue to support measures to protect the sea turtle (Caretta Caretta) and the Zakynthos National Marine Park habitat.
For participation costs click here: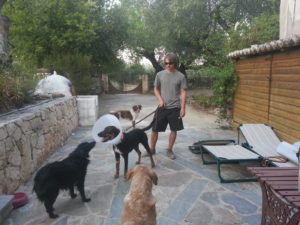 ANTAconcept has been hosting summer seminars and volunteering in Zakynthos off and on since the late 1980s. In 2016 we started a new project to tackle a major problem left unaddressed by local authorities responsible for nature protection: the growing amount of stray or unattended dogs that harm turtles and their nests, destroying dozens of precious eggs and hatchlings.
From 2016 till now, we have succeeded in reducing the problem significantly, resulting in the total success in 2021 were we had no damage at all. However, we need to continue every year with these activities in order to ensure no sea turtle nests are damaged by dogs.
In 2022, while still celebrating that no nests were destroyed by dogs, we were suddenly confronted with an escalating issue of cats preying on newly hatched sea turtle babies at the protected Kalamaki and Daphne nesting beaches. We immediately took action to inform all parties involved and this resulted in positive mobilisation towards sterilisation campaigns and relocation of stray animals (read more…)
This year, in 2023, the project activities already started in winter where we did a sterilisation campaign of cats. We have also successfully located and informed the owner of two dogs that dug up a turtle nest in the beginning of June. This time the NMPZ Management Unit followed through on this very fast and successfully.
The ANTA Project will also continue its "watch dog" activities. Unfortunately, the habitats within the National Marine Park of Zakynthos have been increasingly destroyed and threatened. The current government has passed laws which allow private investors to ignore protective legislation. Concerned citizens and specialist with the support of the ANTA Projekt are raising their voices and shading light on the destructions. There are only two Marine National Parks in Greece, Alonnisos and Zakynthos. Right now in both parts anarchy reigns and destruction is the new norm.
Each summer we visit the beaches regularly, watch for free-roaming dogs, spay or neuter them, and seek new homes for them. Many dogs are hosted at the seminar location until adoption and cared for by volunteers. The work is never-ending, but each year come September we are rewarded with the increased number of nests that remain safe thanks to our volunteers.
All these activities are financed by ANTA Organic Food Products and the Robin Hood Foundation.
A week for body and soul and nature conservation. A week that, in addition to the beautiful living space, good food and good music, mainly includes activities for nature conservation. Swimming in the sea at any time of day or night…
Volunteers taking part in the project are expected to spend six hours a day on the project, 2 for communal cooking or cleaning and 4 hours devoted to activities organized by each volunteer after consultation with the project manager. For example, volunteers can choose to visit the turtle beaches in the morning to save hatchlings, document disturbances in the park, take photos of damage and threats, publish Facebook posts, or manage documented data; or they can feed the dogs, take them for walks and care for dogs post-surgery (sterilization). Volunteers are encouraged to take initiative and come up with their own ideas of how they like to help.
ANTA house offers a warm, healing environment with respect for nature, and sustainable and natural living. The project team is kept small, between 2 and 15 people, and volunteers can arrange their own work schedules. Overall, the project is kept relaxed. A great aspect of spending your holidays with the ANTA project is that you get to know Greece much more from the perspective of a resident than an ordinary tourist.
Accomodations
The week is spent in a beautiful place with views of the sea and olive groves. 
The house, standing in gentle hills amidst olive groves, is only a 200m walk to the sea, and falls within the National Marine Park. The gardens are large, with places to relax and enjoy the lovely views, and nearby beautiful strolls along winding roads.
The house is run ecologically and sustainably and is surrounded by organically grown olive trees. Therefore,we ask guests to please bring ecological soaps. Also, we conserve water because it is precious in this country. 
It's a simply furnished house. For example, there is no television or air conditioning, but the internet connection is available both in the house and in the garden, and fans are available for rent.
Participants can spend the night in the seminar house, set up their own tent in the garden, stay at another villa in the vicinity, or come with a caravan.
Tourist facilities such as villas, hotels, restaurants, bars and supermarkets are within easy reach. 
Food
Food, of course, is an important part of the seminar. We use only high quality organic or local products and the cuisine is predominantly vegetarian with little meat or fish. After this week participants will not only have a very high quality diet, but will also take home many new ideas for healthy eating. It will be delicious!
Personal planning, offers
A week for body and soul and nature conservation.
A week that, in addition to the beautiful living space, good food and good music, mainly includes activities for nature conservation. Swimming in the sea….
On the first day we offer an orientation session with detailed information about all the offers that you can use during your stay. Some of these are included in the seminar package, while others can be planned as additional activities. The group designs the daily program and activities itself,  taking into consideration the needs and wishes of all participants. Some participants may prefer to draw up a completely personal set of activities according to their need.
On request, the following services can be provided by local specialists:
Nutritional advice

Counceling from a systemic point of view

Family constellation – Greek School with Mythological Constellations

Hatha yoga

Buddhist philosophy and chanting

Reiki

Homeopathy

Massage

Foot Reflexology

Further island sightseeing (places are chosen personally)

Children's activities in the National Marine Park

Other
Island tour/day trip
Each year we explore different locations on the island and learn about the history and sights of the island. Participants learn about the flora and fauna of the world famous National Marine Park. There is a boat trip and swimming in other waters, and beautiful sunsets in the monk seal area. Dinners are authentic Greek cuisine, in the remote regions of the island, far from mass tourism development.
Mud bath on the beach
Mud baths can be taken on the beach in front of the house. This is demonstrated on the first day and can then be repeated independently during the week. The mud baths ensure fine skin regeneration, detoxification and much more!
Singing/ dancing
On evenings off we want to have fun and be happy. Singing, dancing either at home, playing our own music, or live music at the Porto Koukla Beach Bar, or the tavern where we will eat. Maybe we're lucky and musicians will come to us too, but that will be a surprise!
Volunteers can take a day off once a week. If you eat in the house, you will still do two hours of housework.
The project team is kept small, between 2 and 12 people. The time of the volunteers is not fixed. Overall, the project is relaxed. A great aspect of spending your holidays with the ANTA project is that you get to know Greece much more from the perspective of a resident than from the perspective of an ordinary tourist. After this stay you will carry with you an experience of what one must be mindful of in order to live sustainably and naturally.
Price Chart: