Raisin Data
Raisin Production

1kg Corinth raisins costs 22.50 € taxes included
ANTAconcept is proud to offer 100% organic, hand-picked Corinth raisins of the highest quality, a rare product which commercial processors simply cannot duplicate. They are a rapidly vanishing variety which has the highest nutritional quality and a unique aroma resulting in a divine tasting superfood.
ANTA raisins are certified Organic, handpicked and sun-dried on the field with NO pesticides or preservatives at any of the processing stages. The Black Currant is small in size and ideal for cooking, for example, in cereals, couscous, minced meatand Christmas pudding.) In Holland they use them in "krentenbrood" and "krentenbollen." In the famous German Christmas cake Stolle, it was the original raisin used as it was this Black Gold of Greece with which Greece paid off its debts in the 19th century. Using them as "Studentenfütter" mixing them with ANTA almonds is a perfect snack providing all the nutrients one needs.
The "Black Gold" that grows on vines
These days the Hellenic Island of Zakynthos is famous for its stunning natural beauty, in particular that selfie-Mecca, the Shipwreck Cove. Yet there was a time when the island was more famed for its main export;  "black gold," the Zante currant. For centuries, and until a decade or so ago, this fruit could not be grown outside of certain areas of Greece, and Zakynthos produced a large percentage of the world's currants. The Hellenic statesman Xenophon Zolotas said that currants were to Greece what coffee was to Brazil.
But the term "Black gold" refers to something more than the monetary value of this fruit: the Zante Currant, it turns out, has had a reputation as a superfood for a thousand years, and modern studies have begun to corroborate the traditional belief in the currant's "magical" properties. This fruit, also grown on the Peloponnese and known as the Corinth raisin, was known as far back as 72 AD, when Pliny first described it in writing, and it's said that Christopher Columbus carried it on his ships, and Hannibal on his elephants, to keep their soldiers in health.
In actual fact, the Zante currant is not a currant; it is a miniature, jewel-like red grape which grows in a tiny bunch that will fit in the palm of your hand. The fresh currants themselves are delicious, a tiny, juicy burst of aromatic pulp, while the raisins go into many an Hellenic recipe, including Loukoumades (a small round doughnut), sweet black wine, currant buns, and rabbit stew with pearl onions and capers, but also foreign dishes such as English mince, Christmas pudding, scones and couscous. The famous Christmas Stolle of the German speaking countries also includes Corinth raisins.
Zante currants are rich in many health-boosting nutrients, including Vitamin A, Vitamin C, Vitamin B complex, resveratrol, potassium, calcium, boron, magnesium, iron, oleanoic acid, and arginine. Specific properties include:
Antioxidant – very good source of polyphenols
Anti-cancer activity – particularly colon and stomach
Antimicrobial activity
Antibacterial activity
Blood pressure – contains large amounts of trace elements that regulate blood pressure, including magnesium, zinc and potassium
Heart protection – polyphenols protect LDL cholesterol from oxidation, reduce cholesterol deposited in tissues, and reduce atherosclerotic plaque in blood vessels
reduces the amount of cholesterol deposited in tissues
Dietary fiber – exceptionally high in dietary fiber compared to other fruits
Low glycemic index compared to other fruits
PURE AND TRADITIONAL PROCESSING
ANTA Zante currants are grown and harvested and processed in the ancient way.
ORGANIC
ANTA's Zante currants are pesticide-free and fully organic. Our current supplier, Panagiotis Kambitsis- Xirogiannopoulos  is a pioneer, the very first commercial organic farmer on Zakynthos.
AUTHENTIC

European Union Protected designation of origin (PDO). Product names registered as PDO are those that have the strongest links to the place in which they are made. Every part of the production, processing and preparation process must take place in the specific region.
HAND-PICKED
Harvesting the bunches of currants by hand prevents bruising, preserving the integrity of the fruit.
SUNDRIED
In keeping with ancient Zakynthos tradition, the bunches of currants are spread out in the sun on specially prepared threshing grounds, usually in August. After 8 days the grapes are turned and left to dry for another few days.
STEM REMOVAL
The currants are then transferred from the field to the processing unit of the Union of Agricultural Cooperatives of Zante, where the stem is removed from the raisin, and the raisins are packaged and returned to the farmer's home.
PRESERVATION
ANTA Zante currants are preservative-free and pesticide-free: the fruit is frozen, rather than treated with preservatives and pesticides.
Almond Production
Almond Data
1kg raw almonds costs 39€ taxes included
Cracked almonds are sold out for now
One of ANTAconcept Nature Conservation actions is to find and cultivate old almond varieties that have a unique aroma and require less water than those commonly grown, currently.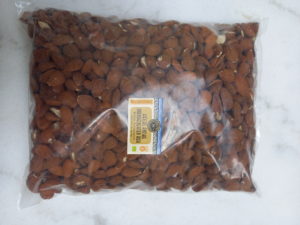 ANTA almonds are: certified Organic & hand-picked from ancient almond trees.
They are offered in a 1kg bag for €39,00 as well as a 1kg bag of "cracked" almonds for €38 (Because ANTA almonds are collected from ancient fields where a mixed variety of almond trees were grown because they believed this helped better propagation between trees. This results in different sized almonds all being processed by almond cracking and shelling machines made for one specific size.)
ANTA Project carries out a number of activities. (ex. ANTA Project 2019)
This is a project that supports small organic farmers on the Cycladic island KEA to promote endemic Greek almond varieties. In recent years these have increasingly been replaced by Californian ones, because they are getting bigger, but they need extra water and fertilisation. The almond trees on Kea are farmed without plowing, watering and spraying. These antique almond varieties are highly aromatic, there is no comparison to mass produced almonds, see for yourself! 
We suggest that you pre-order as the annual harvest is low.