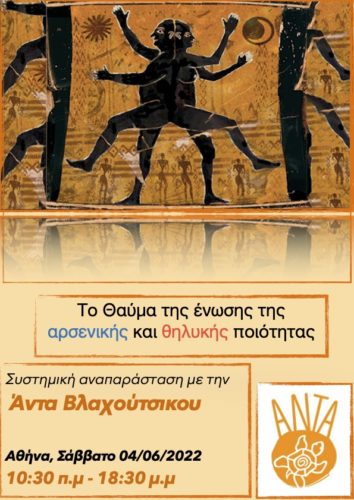 . Σε αυτό το τρέχον Σεμινάριο με θέμα την αρσενική και θηλυκή ποιότητα, ο καθένας μας έρχεται με τους δικούς του προβληματισμούς και όλοι  μαζί εξερευνούμε και ερχόμαστε σε συντονισμό με τις διαφορετικές ποιότητες αυτών των Αρχετυπικών ενεργειών.
. Η ενοποίηση της γυναικείας και της αρσενικής όψης μέσα μας , μας φέρνει σε συντονισμό με τη ζωή μας, με αποτέλεσμα να μπορούμε να μπούμε σε μια σχέση, όχι για να καλύψουμε το κενό που νιώθουμε,  αλλά από γαλήνη και χαρά για αποτελεσματική επικοινωνία.
. In this current Masculine Feminine Union Seminar, everyone comes with her/his issue and all together we will explore and come in resonance with the different qualities of this Archetypical energies.
. Unifying the feminine and masculine aspect in us brings us in rhythm with our life, so then we can go into a relationship, not out of what is missing, but out of a life state of peace and joy for effective communication.