Adressing Genital Mutilation through art in Burkina Faso schools
By now, we should know the power of art. Art therapy has proved an effective tool to work with trauma. Art is used to spread messages, create awareness, and address larger societal problems. This is the thought that suggests our project to give children in Burkina Faso schools a chance to reflect on Genital Mutilation, as they have seen this practice affect their world, and create art on this theme, to be painted on the walls of their schools. These wall paintings would stimulate the dialogue around GM in the villages, celebrate art, and build the children's confidence. The main goal is to give the children of Burkina Faso a creative opportunity to work through personal experiences and feelings, in the hope of a future where young women are in charge of their own bodies.
The project will be carried out by Oumarou Traore  and his team of teachers. Oumarou is a contemporary painter and art teacher, who is  responsible for art in the Dano museum. Ada Vlachoutsikou will facilitate the development of the project and will convey educational tools through the method of family constellations to Oumarou and his team. This collaboration is inspired by a small previous project conducted by ANTA in Burkina, creating an exponential amount of joy and value. It consisted of collecting and reusing old paints private people were willing to donate. From donations, 20 kilos of paint were collected, and brought in a suitcase to the Museum of Dano in Burkina Faso, and submitted to the cultural official of the area Oumarou Traore. 
This was done in the framework of FASIE, a festival of arts, in Ioba schools 2019. Ada Vlachoutsikou and Oumarou Traore visited schools together and painted with the children. Moved by the children's deep joy and gratitude for this time for self-expression, Oumarou had this idea to use art made by the children on the theme of GM to spread healing.
The first pictures that came out of this exploration demonstrate the emergency of this serious social ill.
Teachers GM Training Workshop: Oumarou and his team of teachers will participate in a workshop where a responsible social worker of Burkina will elaborate on the issues concerning genital Mutilation. A counselor and art therapist will work over the emotional issues and traumas involved with GM. The activities of the workshop will be recorded and developed into a curriculum for other teachers. Relevant officials will also be invited.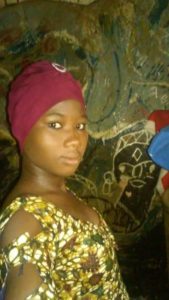 In this planning and team-collecting phase, care will be taken that, where possible, in the team there will be representatives of the different tribes that conduct GM.
"I prevented the genital mutilation of my daughter, against the local social pressure. As she gave me this drawing I made a wish that she becomes an ambassador for this cause." 
– Oumarou Traore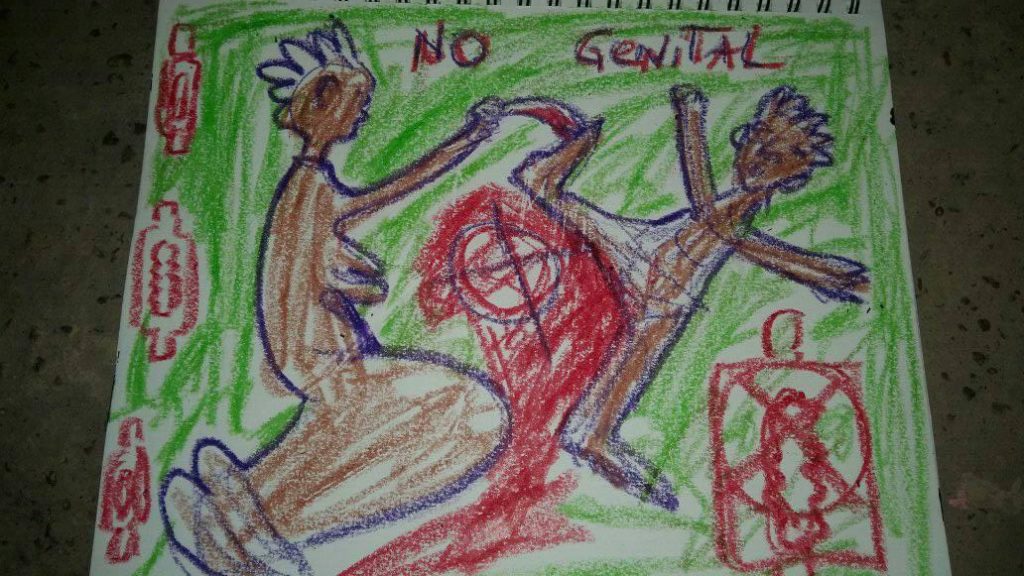 Oumarou Traore born in Dano, Burkina Faso, in 12 Décembre 1971,
"I went firstly in school in 1976 and after the  secondary school I get my BEPC, and in 1994 i became a teacher in primary school, I study art plastic myself, so I discover and promote art in mind and thinking. I make many exhibition in art space in Burkina, Europe, USA so my art is for sensibilizing"
Stopping genital Mutilation through the medium of Art in Burkina Faso:
Project Proposal
Project proposed action plan is as follows:
1. Bureaucratic procedures to acquire the visiting plan, permissions, etc. will be undertaken.
2. Teachers training Workshop
3. Acquisition of materials
4. Execution of the school visits and Wall paintings
5. Project closing with TV and radio reportage broadcasted in Burkina and why not other African countries
6. Film documentation throughout to use as educational material for teachers.
7. Creation of educational package for Burkina teachers, online and printed materials.
Project time span: This project could take at least two years, and depending on the funds available, could be expanded or simplified for long term continuation. Genital mutilation is a harmful social convention that will not be wiped off the board overnight.
Suggested project scope: In the first year it is to be conducted in the 68 Schools of the Dano area where Oumarou is responsible for art and culture. The next goal is the 500 schools of the wider area around Dano. And finally, to all of the country. The educational materials created out of this project, will be not only in french, which is the nation's official language, but also in all the tribal languages of Burkina Faso.
Costs for:
1. Workshop traveling costs of specialists :
– Burkina Faso state responsible for GM
– Counselor (that is me) and
– Art therapist, Oumarou and teachers team
(at least one from each tribe and women must be part of it too)
2. Costs of activity
– Travel costs food gasoline hotel
– Wages for team
– Wages for Oumarou
– Wages for project manager
– Wages for film and photograph team
– Costs for book creation
– Costs for book distribution
– Transportation, staff support
3. Cost of equipment
– Colours, brushes paper cloth
– Film crew equipment


This is a preliminary budget proposal by Oumarou Traore with whom we have previously completed an art-based project in Burkina Faso schools. See: http://antaconcept.com/become-a-sponsor/art/  
Constructing a budget like this is difficult under the circumstances to account for all necessities, but in doing the work we will learn what exactly is needed, and the actions taken will willingly be adjusted according to the available funds.
Stopping genital Mutilation through the medium of Art in Burkina Faso
Indicative Budget Proposal Item:
Number of Items
Unit Cost
Total in
CFA franc
ADMINISTRATION
 
 
 
 
 
 
 
Phone Costs
 
 
100,000
 
 
 
 
PREPARATION PHASE
 
 
 
Formation, support of the framers
10 people, 7 days
30,000
2,100,000 
Training Workshop for team
 
 
2,000,000
 
 
 
 
COMMUNICATIONS/ADVERTISING
 
 
 
Banners
68
30,000
2,040,000
Radio
10
40,000
400,000
Interview TV
7
30,000
2,100,000
Poster making
68
10,000
680,000
 
 
 
 
MATERIALS
 
 
 
White paint
68 cartons
20,000
1,360,000
Red Paint
68 cartons
20,000
1,360,000
Blue paint
68 cartons
20,000
1,360,000
Green paint
68 cartons
20,000
1,360,000
Yellow paint
68 cartons
20,000
1,360,000
Black paint
68 cartons
20,000
1,360,000
Quicklime 
68 boxes
10,000
680,000
Colouring pencil sets
68 cartons
10,000
680,000
Watercolour
68 cartons
10,000
680,000
Paper
68 cartons
10,000
680,000
Paintbrushes
 
 
 
Document Production
100
3,000
300,000
 
 
 
 
RESTORATION
 
 
 
Pupils
1220, 10
300
3,360,000
 
 
 
 
SUPPORT STAFF
 
 
 
Health workers
10, 4
20,000
320,000
Social action agents
10, 4
20,000
320,000
Framers 
10, 10
30,000
3,000,000
 
 
 
 
CEREMONY AND BONUS
 
 
 
Best job
 
 
1,500,000
Organising way
 
 
600,000
 
 
 
 
TRANSPORT
 
 
 
Fuel
?
10
500,000
Vehicle rental
?
50,000
500,000
 
 
 
 
GRAND TOTAL
 
 
30,040,000 f
or
45899,19 euros