Methana Healing Journey: Tibetan Pulsing
5-09 July 2018
This year we organized again the "healing trip in Methana".
This seminar includes 5 days of Tibetan Pulsing and a tour of Epidaurus from a systemic point of view.
Organized by:
Nitya Georgopoulou – She learned the art of Tibetan Pulsing directly from founder Shantam Dheeraj and has been actively  working for 25 years.
Ada Vlachoutsikou – Family Constellation Leader, Greek Bert Hellinger Institute (Dimitris Stavropoulos) for 10 years.
The seminar: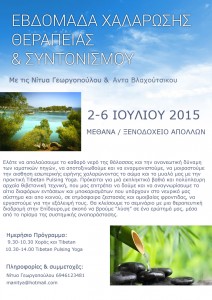 always takes place on the first weekend of July or the following weekend. The exact date depends on the (holiday) availability of the participants.
Accommodation is in Hotel Apollon. We are happy to help (free of charge) when booking.
The cost of the entire seminar is € 330 – and includes the seminar "Tibetanian Pulsing" (4 hours daily over 5 days) and the excursion to Epidaurus.
Language: Either English or Greek with German translation
The journey:
Via Athens by ferry directly to Methana
Alternatively with the rental car on the highway: Athens-Corinth and then to the South-East.
Methana:
is a lovely little resort on the Peloponnese with few foreign tourists.
Very well known by the (smell of) sulfur and radon baths, which Cleopatra was said to use as well. The price level in Methana is low, the restaurant menus are full of freshly caught sea fish and other Greek delicacies
Interested parties should contact Ada directly, 0664 505 8948
the "Healing Journey in Methana" also took place:
June 30 – July 4, 2016
June 27 – July 2, 2017